Neptune Toilet Lift
$210.50
MedAme Toilet Seat Lift & Commode Chair

Fits Your Lifestyle
The MedAme Commode Assist can be used either as a bedside commode chair, or as a toilet seat riser. As a bathroom aid, it is more convenient than a raised toilet seat because it is height-adjustable to match your needs.
Everybody wants privacy in the bathroom, and now it's possible, thanks to this unique toilet lift. This oh-so-helpful aid to independent living fits over existing toilet, gently lowering and raising a person into position and minimizing the necessity for manual handling from caregivers. For comfort, the angle of approach mimics natural body motion.

Specifications
Weight Range: 80-300 lb / 35-100+ kg
Warranty: One Year Limited Warranty
Base Dimensions
Depth: 21" / 53cm
Width: 26" / 66cm

Seat Dimensions
Depth: 16.5" / 42cm
Width: 16.5" / 42cm

Seat Height
Minimum: 17" / 42cm
Maximum: 23" / 58cm

Lift: 10" / 25cm @ 20°
Weight: 21 lb / 9.5 kg
The MedAme Toilet Lift is a blessing both to those who need help in the bathroom AND to those who have been providing that help. If there's ever a place to wish for a little independence, it's in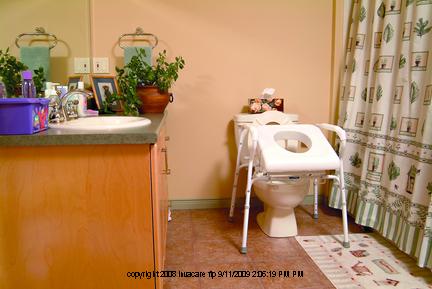 the bathroom; and the lift is a wish come true for those with hip problems, those returning home from hospital or rehab, or those who simply want to remain independent as long as possible.
The lift fits securely over your commode and gently, comfortably, lowers you to a normal, seated position. Unlike with handrails, you don't need body strength or arm strength to get the benefits of the Toilet Lift. When you're ready, it raises you at the touch of a button to the point where you choose to stop, the point where you feel safe and secure in stepping away. For complete comfort, the angle of ascent/descent even mimics normal body motions.
Caregivers will tell you that one of their most difficult responsibilities is helping a loved one or patient in the bathroom--and that is also a time of physical risk for both parties. The lift reduces or eliminates that risk.
The MedAme Toilet Lift is designed to blend easily into bathroom décor--and when it's in position, others in the family can sit with no problem. It comes with two rechargeable batteries, so one can charge as the other does the work. When ordering, you can specify to have the operator controls placed on the left or right arm of the lift, for user convenience.
The MedAme Toilet Lift is a great way to ensure your dignity AND your balance in the bathroom.
Commode Assist Features
Uplift Commode Assist

1. Self-powered
Self-powered lifting mechanism releases slowly as user stands.
2. Coated Steel Frame
Steel frame is white powder coated to protect against moisture.
3. Easy to Clean
Easy to clean snap-on seat.
4. Removable Back Rest
Removable back rest allows for easy positioning over toilet.
5. Seat Release Lever
Seat release lever & auto-lock hook - Commode Assist locks when depressed.
6. Bucket & Accessories
Bucket slides out for easy cleaning. Includes splash guard and cover.
7. Cushioning Pads
Cushioning pads located in the framing enhance comfort.
8. Extendable Legs
Extendable legs with five height settings and non-skid rubber tips for added safety.

CA200
Commode Assist
Testimonials

"I like the Commode Assist as it is strong, solid, secure and weight adjustable. It is adjustable in height. The stand can be leaned forward, to the side, backward or just level. The seat is easily cleaned along with the arms. It one has assistance for cleaning up after use, it is helpful to the handicapped. Everyone who needs to, can use it."
-Joan Wielgus - Macungie, PA

"Uplift Commode Assist is easy to use, and easy to set. It is also fairly light weight for transport when I take it to clients' homes for assessments. Commode Assist helps in maximizing clients' independence with toileting."
-Doreen St. John, OT Reg. - Belleville, ON

"It's the only commode option that works with my leg muscle disability! It gives me the ability for the very first time to be able to get up from the toilet, completely unassisted! Before the Commode Assist, I would not use my commode if I was home alone. If you haven't done so, contact every hospital, nursing home, VA clinic and introduce this product!"
-Montez Hogue - Spring Valley, NY

"The Uplift Commode Assist greatly helped our residents get up from the toilet with ease instead of being pulled off so that they could straighten their legs."
-Anita Wilward - Physio Assistant

"Thanks to your sample program and your provider Surf Medical, we received our Uplift Commode Assist fully assembled. The morning after I received it, I demonstrated the functionality and adjustability of the commode to my staff. Everyone is eager to learn. We also tried it with a patient who has severe arthritis of the knees and hips. The Uplift Commode Assist made a big difference. On behalf of the department and our patients, I thank you."
-Dr. Ivan Chan - Miami Beach, FL